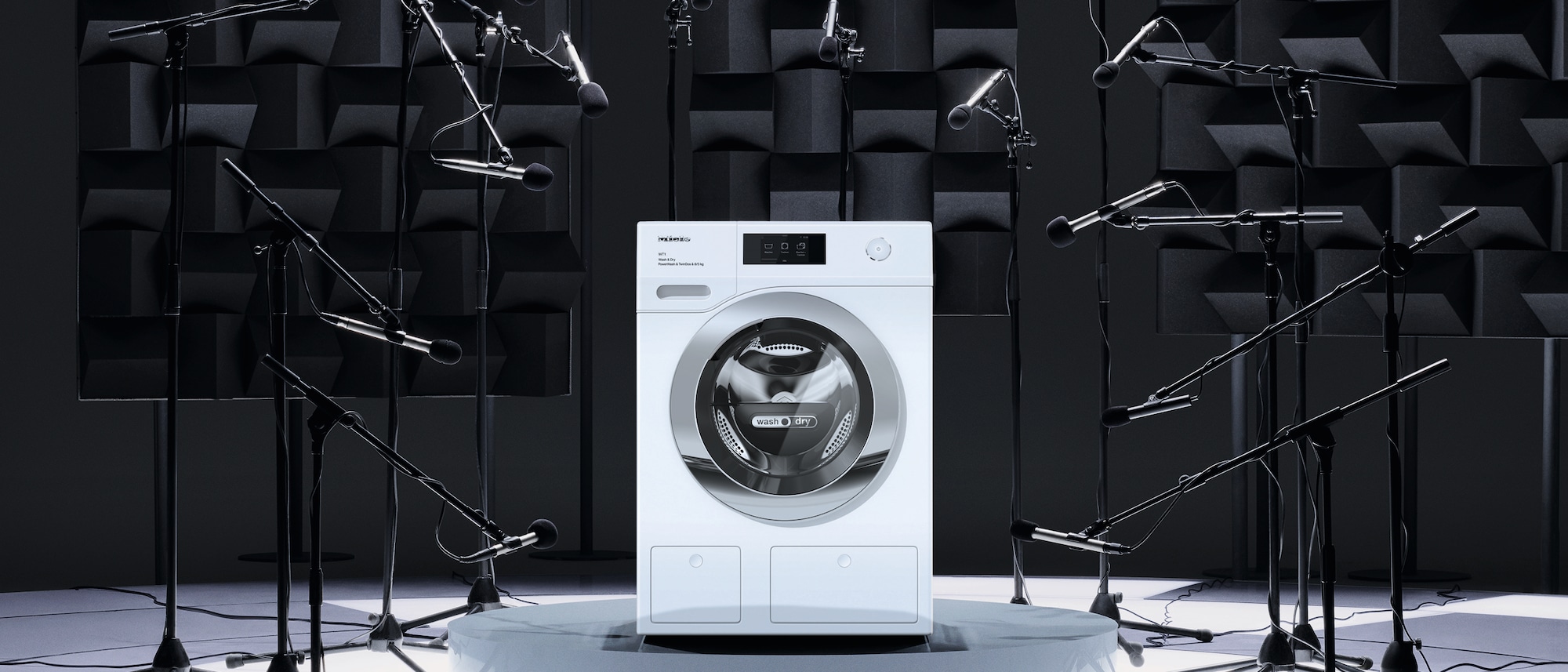 Why Miele Appliances
If, for whatever reason you weren't sure, let us give you five simple reasons why you may choose a Miele appliance.
Why choose Miele? Why choose a Miele Washing Machine? Whatever you're looking for, let us help you...
Find out more about our ongoing promotional offers.
Find out more
Why Choose a Miele Washing Machine
1. Fabric Protection – Exclusive Honeycomb drum: made of raised hexagons which creates a film of water that the clothes glide over
2. Energy Saving – Kinder to the environment by effectively saving on energy and water consumption. Save up to 70% on water and energy and 50% on time with SingleWash at 30 degrees with minimum iron
OUR TOP OF THE RANGE MODELS INCLUDE:
3. Automatic Detergent Dispensing – TwinDos® guarantees perfect cleanliness. Precision dispensing so you can save up to 30% on detergent
4. Uncompromised Quick Washing – A-rated wash performance in just 49 minutes with QuickPowerWash
5. Effective Against Viruses– TwinDos® in combination with PowerWash, removes over 99.9% of all possible viruses
Why Choose a Miele Tumble Dryer
1. Gentle Care for Clothes – Honeycomb drum: allows laundry to glide lightly, preventing pilling and laddering, helping clothes stay soft and in shape for longer
2. Saves up to 60% in Consumption – Miele have the most sustainable, energy efficient heat pumps, the machine will stop as soon as the clothes are dry
3. Perfectly Dry Fabrics – PerfectDry takes the calcium content of water and precisely adjusts the drying process to ensure drying level is always achieved
4. Shorter Drying Times – EcoDry guarantees long-term low energy consumption and short drying times.
OUR TOP OF THE RANGE MODELS INCLUDE:
5. Quiet Drying – The Silence Drum reduces rattling noises caused by item's such as button's on the drum (exclusive to Miele), gently drying your fabrics
Why Choose a Miele Oven
1. Precise Temperature – Within 1 degree of accuracy, precise temperature control for perfect result's every time
2. Extra Large Capacity – 76L capacity of usable cooking space (largest on the market for conventional cooking), plus 5 well-spaced shelf positions
3. One Man, One Oven – Miele's build quality is inherent as one factory technician assembles the whole oven from start to finish
4. Durable – Miele oven doors are uniquely designed to hold a weight up to 15kg so you can comfortably rest your dishes on the oven door safely
5. Easy Cleaning – All ovens come with either catalytic or pyrolytic self-cleaning technology to keen them looking like new with effortless cleaning
Why Choose a Miele Hob
1. Flexible Power – With TwinBooster, power can be individually distributed or focused on just one cooking zone
2. Stop & Go – Pause the cooking process when you need to step away and simply press play and go right back to the original settings
3. Con@ctivity – Innovative convenience as the cooker hood reacts automatically to the hob settings
SOME MODELS INCLUDE:
1. Full Surface Induction – Use the hob surface whatever way you like, pans can be placed anywhere
2. Rapid Heat Up – Fastest heating up times: boil's one litre of water in under 90 second's
Why Choose a Miele Vacuum Cleaner
1. Extreme Power – Whether it's Vortex technology or thanks to the Efficiency Motor, Miele vacuums deliver outstanding cleaning performance and superior power
2. Superior Filtration – The majority of Miele models have HEPA filtration, which removes 99.9% of all particles. Perfect for homes with pets or allegies
3. Flexibility – Designed to move around your home effortlessly and adjustable to allow you to clean high, low and everywhere in between
4. Durable – The plastic used in Miele vacuum cleaners is ABS which is strong and durable. It's the same plastic used in motor cycle helmets, it can withstand 100kilos in weight
5. There's a Miele Vacuum for Everyone – Miele have a range of vacuum cleaners dependent on your preferences: bagged, bagless, cordless or robot
Why Choose a Miele Cooling Appliance
1. Keeps Food Fresher for Longer – Exclusive to Miele, PerfectFresh extents the life of the food and keep's food fresher for longer (up to 5 times longer)
2. Adaptable – Make the best use of your space by changing the position of inner shelves, or with FlexiTray, a pivotable shelf that rotates enabling you to reach all items
3. Temperature Accuracy – Temperature in your refrigerator stays consistent thanks to the built in thermostat resulting in 1 degree accuracy
4. Even Temperature Distribution – With DynaCool, a fan ensures excellent circulation and distribution of cold air
5. No More Defrosting – Our NoFrost system prevents ice build-up by automatically defrosting and eliminating the need to manually defrost, making Miele freezers easy to clean
Why Choose a Miele Coffee Machine
1. OneTouch for Two – Make two perfect cups at the same time with just one touch
2. Freshness – Coffee beans are freshly ground for every cup thanks to AuromaticSystem, with the beans perfectly sealed to retain ultimate freshness
3. Unique User Profiles – Get your tailored coffee every time. Set up to 10 individual profiles for your own unique coffee experience.
4. AutoDescale/AutoClean – Convenient and effortless your Miele coffee machine will take care of cleaning and descaling for you.
5. Elegant Design – Miele coffee machines are designed to fit every type of kitchen design, available in a variety of colours so everyone can find their perfect match
Why Choose a Miele Dishwasher
1. Fast & Superior Cleaning – Miele QuickPowerWash gives an outstanding full wash and dry cleaning in under an hour (58 min)
2. Minimum Consumption – The Automatic programme ensures best cleaning results with minimum water consumption, using as little as 6 litres
3. Stress-Free Loading – With 3D MultiFlex trays, adjust the baskets to fit any type of crockery or glassware easily and securely
OUR TOP OF THE RANGE MODELS INCLUDE:
4. Automatic Dispensing – A world first: AutoDos with PowerDisk. Always get the exact amount of detergent needed
5. Hygienically Clean – All Miele dishwashers reliably remove over 99.9% of viruses
Reasons to Choose Miele Appliances
1. Built to Last – 20 years from now, your Miele will still impress you. Engineered and tested to perfection for over 120 years, you can rely on Miele. Longevity is the ultimate sustainability.​
2. Sustainability – Recognised as industry leaders in sustainability and ethical production. Designed to hold their energy efficiency ratings for the lifetime of the machine.​
3. Craftsmanship – Combining vision, precision and a great deal of attention to detail, we make the machines that make our machines. Each of our products is manufactured to the highest standard and is subject to stringent quality controls.​
4. Innovation – Fascinating technology and excellent results, combined with minimum energy consumption. This is borne out by numerous first places in leading product tests conducted around the world​
5. German, Family-Owned Brand – Still today, 124 years later, Miele is a family run business proudly investing in innovation with the customer first approach. We do all we can to be "Immer Besser" – meaning forever better.