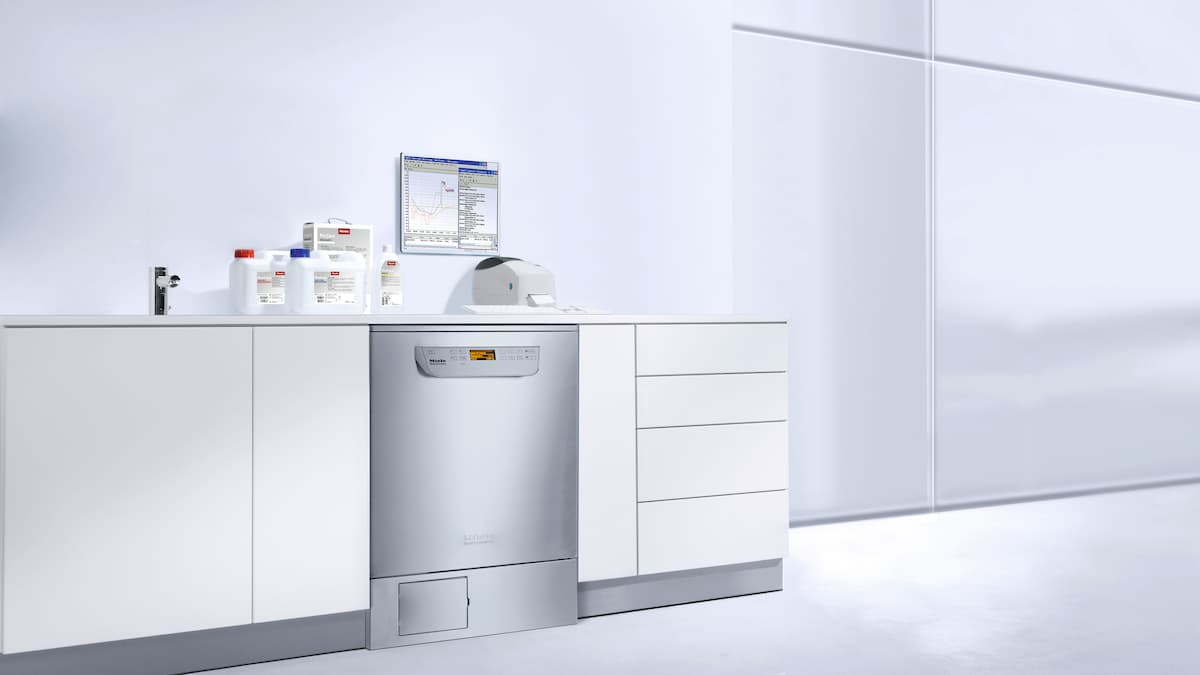 Thermal disinfectors
Performance, efficiency and security: Tailored thermal disinfectors for all instrument loads and installation situations.
Efficient hot water connection
Connection to the warm water supply saves a lot of time and energy.
The heart of perfect results
In the individual programmes the speed of the pump and thus the wash pressure is adjusted in line with the relevant requirements – high pressure facilitates the removal of stubborn soiling, whilst low pressure guarantees the complete wetting of all the wash items. As a result, the consumption of water and energy remains particularly low with optimum wash pressure at all times.
Powder cleaning agent dispenser
For the quick and easy use of powder cleaning agent these machines have a built-in dispenser for powder agent.
Load carriers - direct connection
The direct connection guarantees the precise feed-in of water and drying air (in appliances with hot air drying) and the economical use of resources.
WLAN interface
The WiFi interface is ideal for wireless local and network-enabled communication (e.g. for the transfer of data for documentation purposes).
DI water connection
Thanks to the connection for fully demineralised water (DI water), these washer-disinfectors and thermal disinfectors facilitate optimum reprocessing results. Carrying out the final rinse with DI water also protects valuable wash items from deposits and corrosion.
Adjustable display language
No misunderstandings: The user can select his/her language of choice from a number of different options. All display notifications appear in this language, so that the highest level of operating safety is ensured.
EcoDry via patented AutoOpen function*

Patent: DE 102 007 008 950 B4

Patent: DE 102 007 008 950 B4
Quick drying: At the end of the reprocessing programme the appliance door opens automatically.
AutoClose*

Patent: EP 1 733 675 B1

Patent: EP 1 733 675 B1
A light touch is all it takes: With AutoClose, the door closes by itself.
Spray arm pressure monitoring
The wash pressure is monitored for perfect cleaning results.
Spray arm monitoring
Reliable cleaning performance thanks to the monitoring of the rotation speed of the spray arm.
Touch on Metal
Greater user convenience and easy surface cleaning.
Patented* in-door salt container

Patent: EP 1 457 153 B1

Patent: EP 1 457 153 B1
Ergonomic convenience: The in-door salt container is particularly easy to fill.
Short cut buttons
Quick and convenient access to frequently used programmes.
RS 232 serial interface
The serial interface facilitates the exchange of data with other appliances, e.g. for process documentation.
Ethernet interface
The Ethernet interface enables cable-supported communication in the local network.
Can be built under a worktop
The machine can be easily integrated under a worktop.
Waterproof System (WPS)
Protection against flooding: In the event of problems, the system stops water intake automatically.
Learn more about our thermal disinfectors
Perfectly matched
System4Dent – everything from a single source
With System4Dent, Miele Professional offers an innovative complete system for safe and efficient instrument reprocessing in dental practices. Based on many years of experience and developed in close consultation with experts in the field, System4Dent offers a system solution which can be divided into four steps: cleaning/disinfection/sterilising, bespoke process chemicals, documentation and the highest service quality. During each of these steps, Miele Professional provides powerful machines, process chemicals, documentation solutions and further components, as well as comprehensive service. Since all the components in this system come from the same source, they are perfectly integrated with each other. The result is a seamless, particularly gentle and economical reprocessing process for dental instruments. And administration time is also optimised, since Miele is always at your side as an expert partner in all matters – from machine technology to financing.
Powerful process chemicals
Flawless results
As well as the machine technology and the reprocessing programme, the process chemicals are a critical factor in the cleaning and disinfecting process. Their task is a demanding one: soiling must be effectively removed and germs deactivated, whilst the items to be reprocessed, e.g. valuable transmission instruments, should be treated as gently as possible. Miele Professional provides specific powerful cleaning agents, neutralisation agents and surfactants for users in dental surgeries. All the chemicals are perfectly coordinated with the different materials and with Miele Professional's washer-disinfectors. That is why Miele Professional is recommended by leading instrument manufacturers for reprocessing.