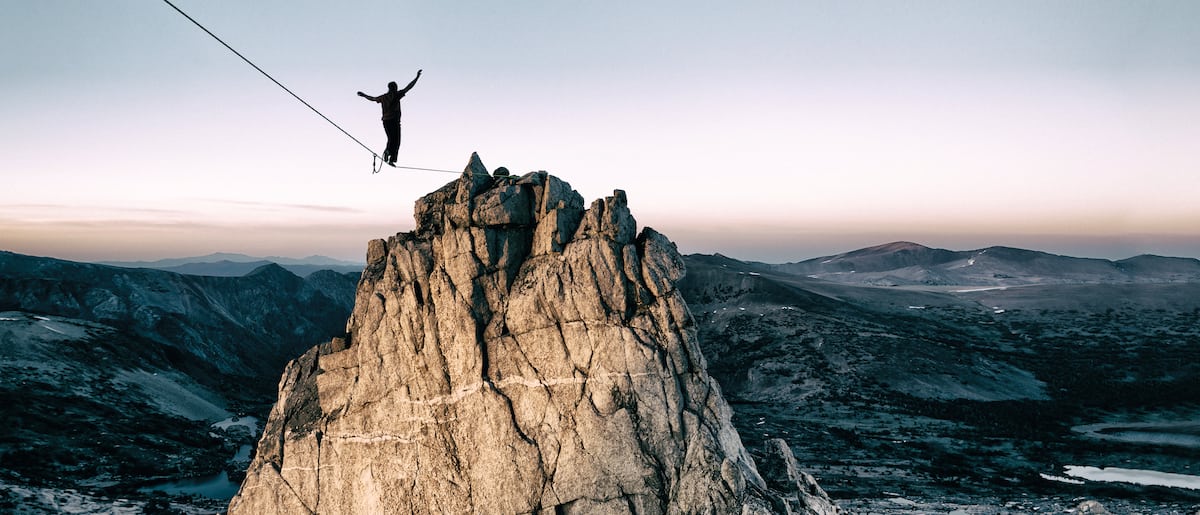 Washing machines and dryers from the new Benchmark Generation
Perfect balance
Designed to extend the limits of what is possible.
Like slackliners the new Benchmark machines embody the perfect balance - of finely tuned technology and functions that ensure outstanding results and optimally coordinated processes. When will you set the Benchmark in laundry care?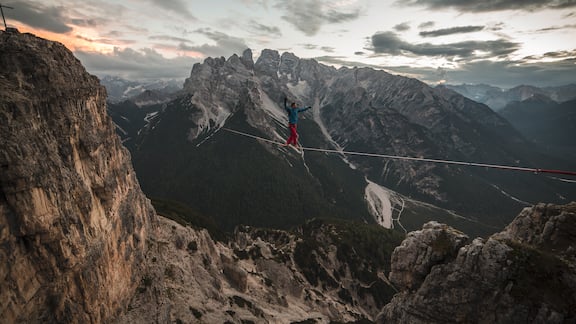 It is all about technology, intuition and precision.
Some slackliners train their moves with their eyes closed to push the boundaries of their ability. We believe that every company can set standards - when technologies are perfectly tuned and processes carefully coordinated. Thanks to an intuitive interface, customisable special-purpose programmes and optimised application technology, connectivity-enabled Benchmark Machines strike a perfect balance, ideally combining cleaning performance, user safety and cost-efficiency.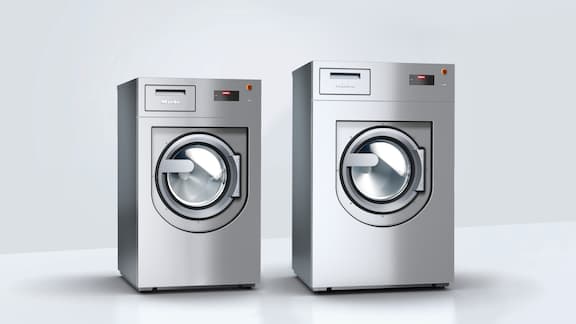 Improving technology is a never-ending calling.
The new Benchmark washing machines
Patented technologies and intuitive user convenience guarantee excellent cleaning results on loads ranging from 9 to 20 kg in size.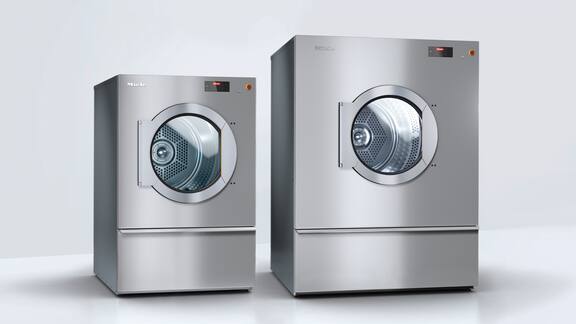 The time has come to take the next step.
The new Benchmark dryers
Innovative systems and alternative heating methods make for efficient drying processes on machines with load capacities of 10 to 44 kg.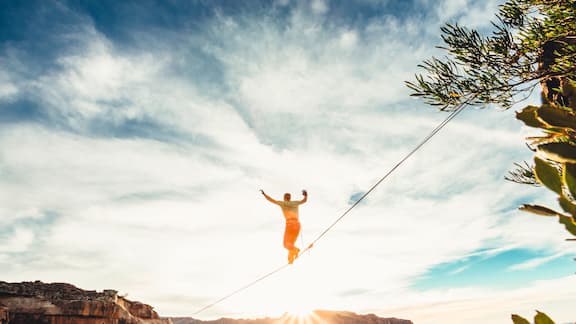 Two product lines. Raising standards in laundry care.
With two product lines and solutions which cater for specific types of businesses, the new Benchmark washing machines and dryers offer tailored solutions to rise to every challenge.
The attractively priced PERFORMANCE models meet all standard requirements. Users also have the option of covering specific applications thanks to many special programmes.
Thanks to their special-purpose programmes and customisation options, top models provided by the PERFORMANCE PLUS range can even tackle tasks of Herculean proportions.
Both lines are united in their mission to continuously raise standards in laundry care.
Benchmark. The new standard in laundry care
New software for flexible programme modifications

Optimised processes for shorter cycles

Intuitive controls for convenient operation

Intelligent connectivity for digital laundry management
Robust components for product longevity

Tailored special-purpose programmes for outstanding results

Minimal water and energy consumption for maximum cost savings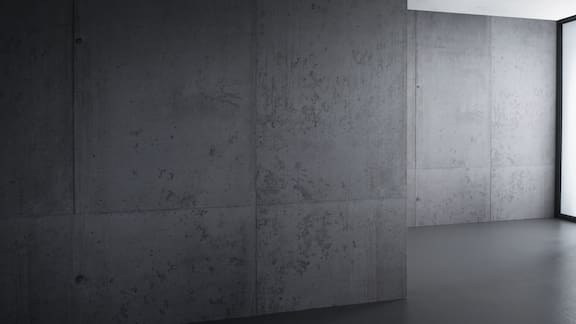 The new Benchmark washing machines
Thanks to Miele's proverbial quality, Benchmark washing machines are designed to perform to perfection for over 30,000 hours of operation. Intuitive controls and individual settings streamline processes and offer maximum security for users. Programme packages with short cycles specifically designed to deal with standard and special-purpose applications produce excellent results whilst using resources sparingly. Through the use of digital interfaces and new technologies, Benchmark is set to become the perfectly balanced solution for large loads and multiple cycles per day.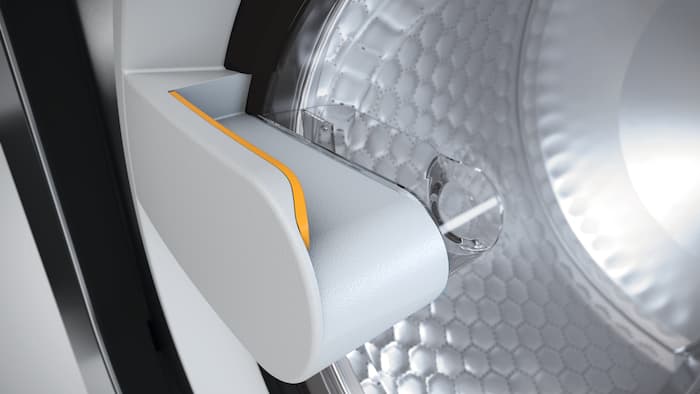 This small lever commands unbelievable power
Automatic door lock - OneFingerTouch
The electro-mechanical OneFingerTouch door lock system allows the 415 mm door to be opened with the tip of a finger. The automatic door lock is activated and deactivated by applying slight pressure – guaranteeing simple, safe and convenient operation. Thanks to the new design of the door handle and the use of signature elements, door use is now even more intuitive. The system is only released at the end of a programme in order to afford maximum user safety during operation.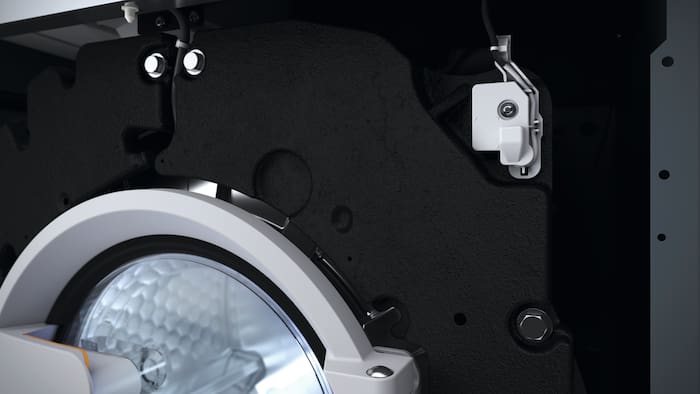 A sense of balance can be learned
New 3D imbalance sensor
The new 3D imbalance sensor scans drum and load rotation in 3 dimensions, evaluates performance data as a function of direction and permanently adjusts spin speeds. The result: Very low residual moisture, shorter cycle times and energy savings. At the same time, the sensor ensures the perfect distribution of laundry in the drum. This extends in particular the life expectancy of components such as bearings and springs which are subject to intense strain, and ensures smooth running - above all when fully loaded.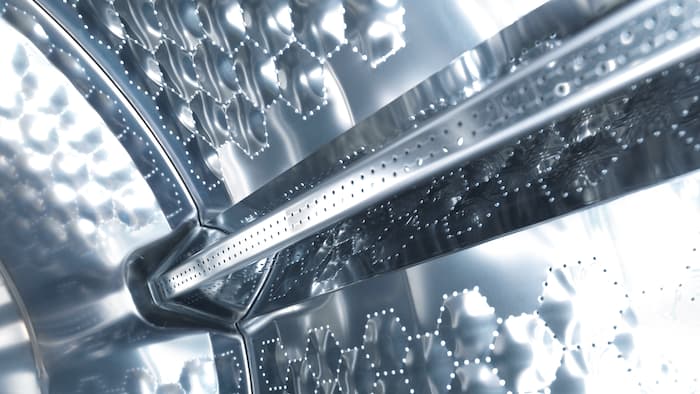 Gentle, flowing movements.
Patented honeycomb drum 2.0
The scoop ribs in the patented honeycomb drum 2.0 let water rain down on the load, wetting laundry faster, more uniformly and more efficiently. A thin film of water created on the sculptured surface of the drum allows laundry to glide gently. This results in a thorough and above all more gentle wash which ensures that particularly demanding and sensitive garments keep their shape over time.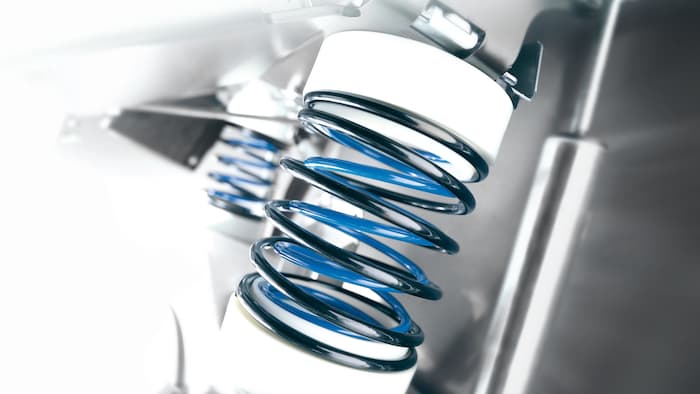 A spring in your knees!
Optimised suspension system
The spring-in-spring suspension system is designed for maximum constant strain. Independently operating springs absorb shocks, minimise drum oscillations and guarantee whisper-quiet operation and long life expectancy, in particular with full loads and at maximum spin speeds.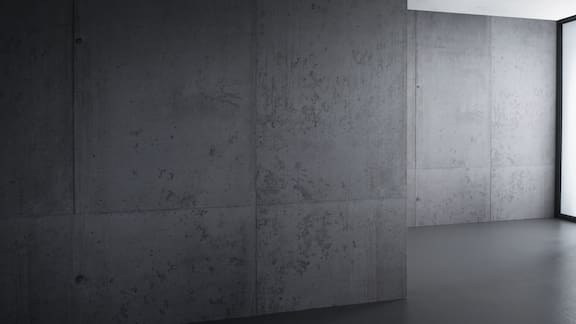 The new Benchmark dryers
Even after 20,000 hours of constant strain, Benchmark dryers still achieve drying times which are close to the physical limit - without compromising the first-class care of fabrics.
Alongside the new controls and the smart interfaces, it is primarily patented systems such as AirRecycling Flex and PerfectDry and robust, maintenance-free technology which ensures spot-on drying and sets new standards in terms of cycle times, the gentle care of laundry and low energy consumption.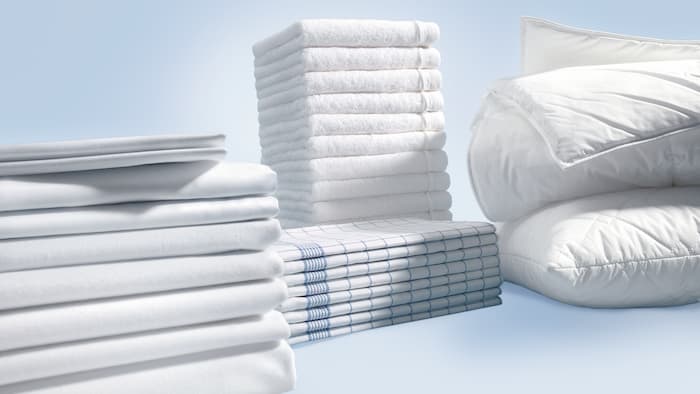 Making the most of every breath.
AirRecycling Flex
When it exits the drum, process air still contains plenty of surplus heat. AirRecycling Flex, a world first, utilises this to make drying both more energy-efficient and faster, irrespective of site operating conditions: Thanks to the dynamic control of recirculated and vented air streams, this system reintroduces a large proportion of the warm air into the drying process and even reflects on-site conditions, e.g. ambient room temperatures. The result: A faster heat-up phase from cold, reduced switching frequency when warm, component longevity – and, of course, uniform and precise drying results combined with lower costs and shorter drying cycles.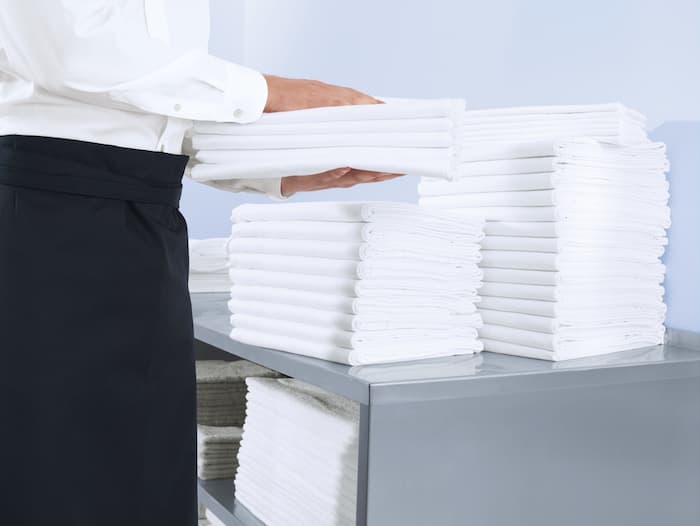 The interplay of sensors and kinetic energy.
PerfectDry system
Drying with utmost precision thanks to mineral sensors: The PerfectDry system constantly monitors the residual moisture content of laundry and the conductivity of the water, precisely adjusting the drying process to the mineral content of the water. The predefined residual moisture level and perfect drying results are achieved precisely; under- or over-drying is avoided. This, in turn, saves considerable time and cuts costs: Your personnel no longer has to hang around, waiting for programmes to end or even add a few more minutes of drying when laundry is still damp.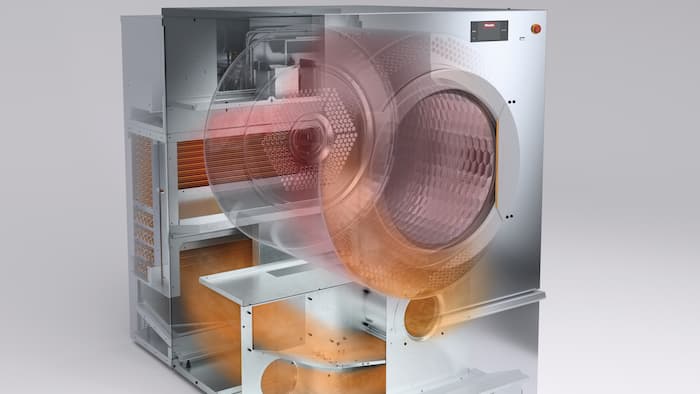 It is important to put energy to the best possible use.
Heat pump technology
Simple installation and low energy consumption: The new Benchmark heat-pump dryers operate at low process air temperatures in a closed circuit without any vent ducting. Instead, waste heat is recuperated with the aid of heat exchangers. This sophisticated technology ensures the gentle drying of all textiles – cutting energy consumption by approx. 60% compared with comparable conventional electrically heated models. Together with the new, environmentally friendly R134a refrigerant, dryers now make a further contribution to protecting nature.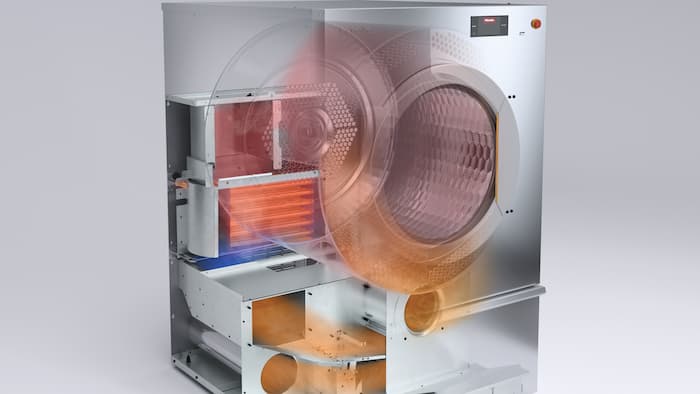 No peak performance without warm-up
A selection of heating modes
A variety of heating types continue to cater for various energy sources: gas, steam and hot water as non-standard heating types are now available to include even models with a 500 l drum. These feature single-phase connection for even simpler installation. This way, Miele is ensuring that all heating types – electric, gas, heat pump, hot water – can be connected without the need for conversion work, providing machines which are instantly ready for use.
*Image shows heating with steam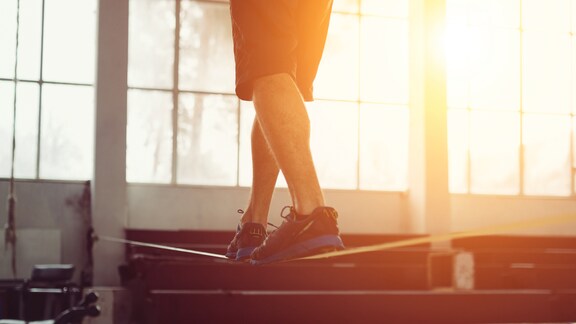 Precisely geared solutions for specific challenges
Equipped for the challenges of your special disciplines
Whether strict hygiene regulations, particularly delicate fabrics or heavy soiling: With tailored solutions such as MopStar for contract cleaners or Self-Service for coin-op launderettes, Benchmark rises to every challenge. It is time to take the next step.