Product Detail
EUR
Free delivery on orders over €100
View in 360
View in AR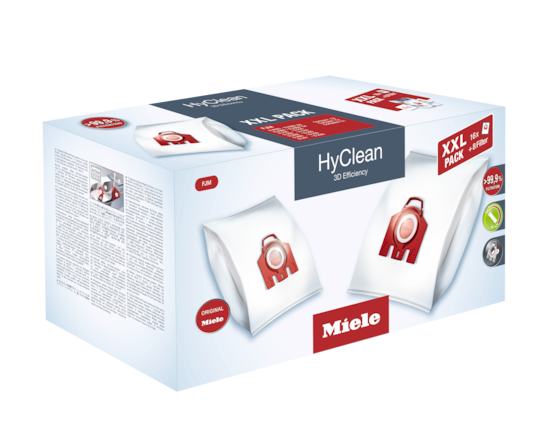 XXL-pack HyClean 3D Efficiency FJM 16 HyClean FJM dustbags at a discount price
Filters more than 99.9% of all dust particles
Highest level of efficiency when vacuuming with a low wattage
Longer service life with 3D vacuum cleaner bag technology
Clean bag replacement thanks to automatic bag closure
Contents: 16 dustbags, 4 motor protection & 4 exhaust filters
Incl. for Complete C1, Compact C1, Compact C2, S6, S4 
SB Set FJM XXL Pack 3D
XXL-pack HyClean 3D Efficiency FJM 16 HyClean FJM dustbags at a discount price
Subject to technical changes; no liability accepted for the accuracy of the information given. See General Terms and Conditions in footer for additional details.
XXL-pack HyClean 3D Efficiency FJM 16 HyClean FJM dustbags at a discount price
Filters more than 99.9% of all dust particles
Highest level of efficiency when vacuuming with a low wattage
Longer service life with 3D vacuum cleaner bag technology
Clean bag replacement thanks to automatic bag closure
Contents: 16 dustbags, 4 motor protection & 4 exhaust filters
Incl. for Complete C1, Compact C1, Compact C2, S6, S4 
Your exclusive advantages
Quality (4)
Perfect dust collection
Perfect fit
Thanks to the perfect key-lock principle, no dust can get past the Miele dustbag.
Read more
Exclusive to Miele
AirClean filter system
At last you can breathe easily
The Miele AirClean system filters more than 99.9% of all fine dust particles.
Read more
Hygienic replacement
For hygienic bag changes
To prevent dust from getting outside, the dustbag closes automatically when the appliance is opened.
Read more
Dust is securely contained
(Fine) dust remains locked in securely
Thanks to several filter layers (fine) dust that has been vacuumed up cannot escape into the room air.
Read more